Russ's Synth stuff
I'm a bit of a synth/electronic music junkie. Here's a small handful of tracks I've written. If you like it, let me know! Drop me a line at the address below.
Mar 2010 - New synth toy designed by Russ: Freq Havoc!

As featured on Matrixsynth.

See the article here on matrixsynth.

Is It Still Winter? - Repaired Polysix and Freq Havoc.
eeaah.mp3 More Kaossilator madness. Something I whipped up during my lunch break.
kaoss.mp3 A short track composed / improvised on my new Korg Kaossilator. 100% Kaossilator, no other equipment used.
electro1.mp3 A quick track featuring Theremin, MicroKorg, MicroX, and my new Alesis Andromeda A6!
andyimprov1.mp3 Improvisation on my new Alesis Andromeda A6.
sn94281-01.mp3 - 25-year anniversary recording of my SN94281-based sound synthesizer. 25 years ago, I won Grand Champion at the local science fair with this project. I recently restored it and made this recording to mark the occasion. Be warned, may cause ear damage!

TranceMasterClass.mp3 - My take on Computer Music's Trance Masterclass trace tutorial.
Thanks.mp3 - A little tune I improvised as a thank you for someone who gave me a nice present. Gear: Korg MicroX
Korgjam.mp3 - An improvised ambient/atmospheric piece. Includes mistakes! Gear: Korg Triton Extreme
netmetal4.mp3 - An intro to a compilation CD I made for my brother. Equipment includes Korg MicroKorg synth, GTPlayerExpress guitar effects, Virtual Guitarist SE and Groove Agent SE.
qs6rock.mp3 - Something odd I composed shortly after I bought my QS6 back in the 90s. Uses a single multitimbral setup on the QS6 for all instruments in a single two-track recording.
All songs Copyright 2006-2008 by Russell Hoffman. Free to download / listen to, but if you feel some need to make money off the material presented here, first, you're probably crazy, and second, you'd need written permission by me. r...@somewhere.dom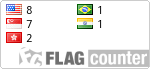 My Studio
Somewhat outdated studio pix; does not yet show my new Andromeda Synth or Lexicon MX200 Reverb.

Equipment:
Korg Micro-X
Korg MicroKorg
Alesis QS6
Alesis A6 Andromeda (not shown)
Casio keyboard
M-Audio Radium49
Korg Electribe ER-1
Korg PadKontrol
Paia Theremax theremin
Lexicon MX200 Reverb/FX (not shown)

Contact info: r...@somewhere.dom